Celebrity Fashion - The Hollywood Gossip
Posts from the 'Celebrity Fashion' tag on The Hollywood Gossip

Queen Wears Hoodie, Rolls Out in Style
Aug 29th 2012, 11:21
Introducing H.R.M. Queen Elizabeth II, O.G.
In a photo only slightly less surprising than ones of Prince Harry naked, the 86-year-old British royal family matriarch was photographed over the weekend wearing a hooded sweatshirt behind the wheel of her Range Rover. Straight chillin.
Here's the Queen in her hoddie ...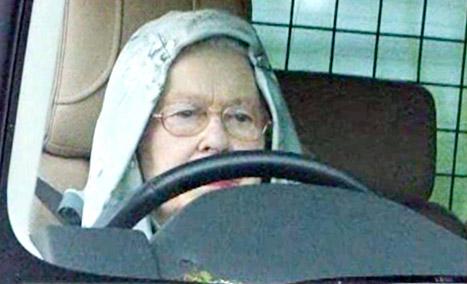 The morning shows, including Today, first ran the photo, which showed the Queen driving on her Scottish estate, Balmoral, after a grouse shoot.
Last week, the Queen was reportedly joined at the family's Scottish residence by her wild, scandal-stricken grandson, as well as his father Prince Charles.
We would love to have been a fly on the wall then.
Fun fact: Elizabeth is the only person in the U.K. who does not need a driver's license to drive, which she rarely does anyway, at least in London.
Royals ... they're just like us. Sort of a little.