Celebrity Fashion - The Hollywood Gossip
Posts from the 'Celebrity Fashion' tag on The Hollywood Gossip

Lady Gaga: The Black Swan ... or Raven, or Something
Aug 30th 2012, 11:59
Lady Gaga always manages to impress, or at least leave us scratching our heads, with her random photo shoots. Lady Gaga pics always make our day. What would all the fashion designers and makeup artists across the world do if she retired?
Luckily, we won't have to wonder that for some time at least.
Behold, the 26-year-old Mother Monster flapping her wings/feathers for the famed photographer Terry Richardson outside a Chanel store in Finland: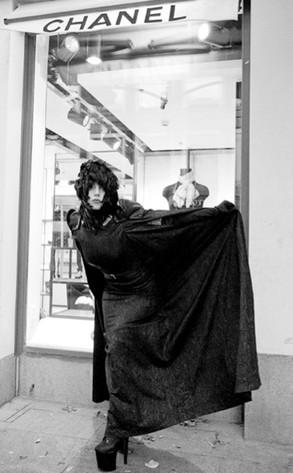 Those feathers are part of an elaborate headdress. We think.
Gaga is continuing the European leg of her Born This Way Ball tour, with Richardson in tow apparently, always ready to snap an "artistic" image such as this.
She's a rare bird indeed.